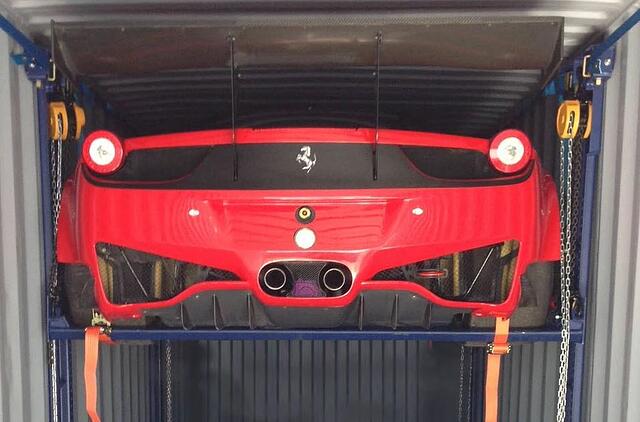 Transporting luxury vehicles can be nerve-wracking. Yet whether it's to get the cars to market, to attend an international trade show, or simply to move the vehicle between properties, overseas journeying is something that high-end cars experience frequently during their lifespans. What's the safest way to do it?

Find A Specialist Broker
When it comes to luxury and classic vehicles, it pays to have somebody who knows what they are doing. A handful of shipping brokers specialise in high-end vehicles and can offer advice, support, and reassurance. They will also be able to locate the best ports. Ideally, a broker should recommend container shipping, as the risks of taking a luxury car on a roll-on-roll-off ferry are extremely high. Damage, dents, poorly fitting fixtures, and audiences stopping to gaze are just some of the many hazards. Make sure that the broker offers the latest technology, such as custom racking systems. These offer the highest level of quality and security for high-end vehicles.

Opt For A Container
The safest way to transport any vehicle is by container. This keeps the car away from the elements, out of sight, and ensures that it is fully traceable. Container shipping has a safety record that has improved annually, with the 2019 shipping review describing losses as having "plummeted". This is largely due to technological advances, as well as better legislation, risk management, and safety training. As the world becomes increasingly reliant on containerisation, the industry becomes ever more regulated and responsible. Thanks to advanced racking systems, these benefits are now available to the vehicle transport industry.

Do The Research
There are many different types of transport racking systems available. These include purpose-designed DL-RAKs for loading wide vehicles, and SKD-RAKs which can safely support classic vehicles that are being transported for restoration. For transporting multiple luxury vehicles, various different racks can be used, including our game-changing R-RAK system.

Check The Insurance
Check your insurance policy to ensure you are fully covered for different types of journey. Some insurance companies have crafty clauses that make life difficult in the event of a mishap. If you choose to ship your vehicles by container, the likelihood of a problem is very low. As long as the racks are used correctly, they have a 100% safety record. However, RoRos are less reliable, and damage is always a possibility, so it pays to ensure that all of your paperwork is in order.

What Next?
Trans-Rak have over 20 years' experience shipping luxury and classic vehicles. We are always happy to offer advice about how to do it safely, securely, and efficiently. Give us a call for our professional recommendation, or send a message through our online contact form.