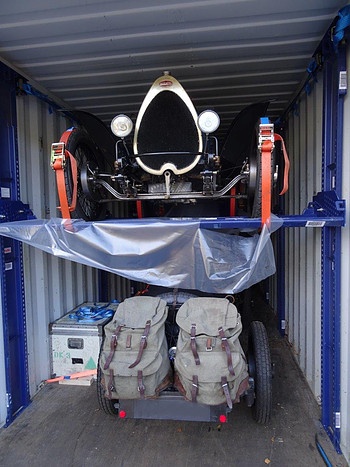 When Ian Jenner, MD of Jenners Worldwide Freight Ltd was approached by the organisers of the Bugatti International Rally in New Zealand to arrange a cost effective and safe method of shipping six valuable vintage Bugatti cars from the UK to New Zealand and back, he knew he had the answer.
"Our first thoughts were to use R-Raks to enable all six cars to be packed into a single 40ft container. Crucially, the R-Raks offered a safe and flexible option to maximise the stowage into the container with enough space around the vehicles so they could be properly secured and protected during transit.
"For the first leg, the cars arrived in Auckland safely and securely. The unpacking from the R-Raks proved a relatively fast and easy process especially as it was carried out by qualified operators. The R-Raks were then stored and used to return the cars to the UK after the Rally ended.
Ian concluded: "I fully recommend the use of R-Raks for any shipments of any vehicles which require maximum possible stowage using a safe and flexible stowage system."