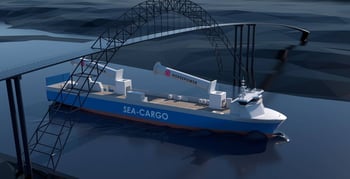 The Covid 19 pandemic has had a massive impact on the global car manufacturing industry. With so many supply chains dependent on Chinese manufacturers, the sector was feeling the pinch as far back as January, before most of the world had even woken up to the threat posed by the virus. Since then, and especially over the past three months, shutdowns across Europe, India, the UK, and the USA have forced many factories to close or reduce production, and have played havoc with global transportation routes.
With many ports closed to shipping until recently, car shipments have been delayed or cancelled, with enormous backlogs on some of the world's busiest shipping lanes.
With the massive downturn in vehicle production, this has meant that RoRo shipping of vehicles has declined dramatically. As vehicle production slowly recovers, container ships are much better placed to handle smaller volumes on a more regular basis, getting the vehicles to market.
The World Restarts
As a supplier to the automobile logistics industry, and with strong global links in China and throughout the world, at Trans-Rak, we are as pleased as anybody that lockdowns are easing and the economy is starting to move again! Across the world, vehicle production is restarting, and the need to get vehicles out to customers on time – and to clear backlogs quickly – is more important than ever to OEMs and the transport companies that serve them.
The big question faced by transport companies at the moment is; is traditional RoRo transport up to the task of getting the industry moving again?
We've written frequently on this blog about the deficiencies of RoRo shipping. For decades, the tried and tested roll on, roll off method has proven unable to accommodate the increased demands – and demands for flexibility – that characterise the consumer vehicle market. Although still popular, RoRo shipping is slow, expensive, inflexible, and fraught with the risk of damage and theft – risks that multiply with each change of transport, and that often add significantly to the cost of transportation.
Shipping Vehicles In Containers
In recent years, RoRo shipping has started to be eclipsed by the shipping of vehicles in containers, something which has been made more economical by the development of new racking systems, such as our R-RAK and EL-RAK solutions. These have made the transport of cars in shipping containers more affordable by increasing the carrying capacity of each container, and making each vehicle more secure. Rather than just one or two vehicles per container, which is an expensive way of shipping, racking systems increase accommodation to four or even six vehicles, lowering the cost of transport considerably.
Increased Shipping Options
Shipping container transport has also increased the number of shipping options open to haulage companies, as logistics planners are no longer solely dependent on established RoRo shipping lanes and deep water ports. Once secured within shipping containers, vehicles can effortlessly be transferred from container ships, to road transport, rail or barge transportation – slashing delivery times and lowering overall costs. Containerisation also makes vehicles more secure when awaiting embarkation at port, no longer vulnerable to damage and theft in large, portside car-parks.
Bouncing Back From The Crisis
As the only global envelope for multimodal delivery of vehicles from OEMs to customers across the world, container transport has the capacity to address the problems in shipping created by Covid 19. As the global car industry strives to bounce back from the Covid 19 crisis – and we have every confidence that it will, and rapidly – container transport will play a vital role in increasing productivity and reducing costs.
At Trans-Rak, we are busy clearing an influx of new orders from transportation companies who've been let down by RoRo shipping, and who are looking at new ways to manage demand, improve delivery speed, and handle flexible orders.
If you'd like to know more about how vehicle container transport can increase the speed and frequency of your deliveries, reduce damage and handling, and make door to door delivery and flexible schedules more affordable, please get in touch with one of our team today.

Image source: Sea-Cargo