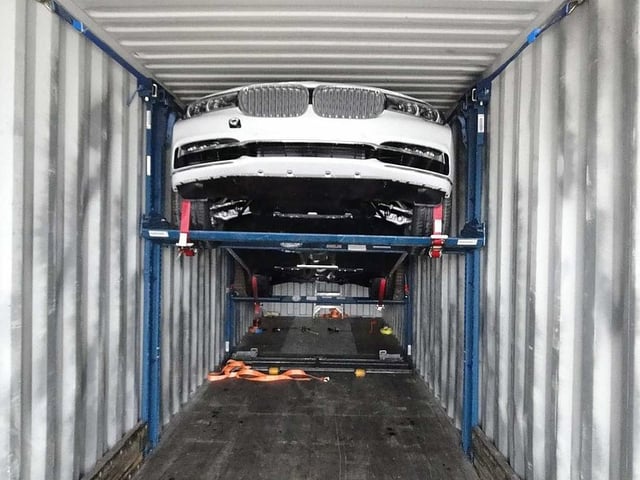 It's a startling fact that finished vehicles were the last product in the world to be containerised for shipment across the globe. So, when Paul Donaldson looked at the traditional way of constructing vehicle racking with 'wood, string and nails', he knew he had to come up with an alternative, if it was to be done properly.

What Was Needed:
- A flexible solution to adapt to the size of the vehicle and maximise container space.
- A strong, secure system so that the vehicle remains in position once lashed and free from damage.
- A reusable system that did not need to be built to order and then disposed of after a single use.
- And, ultimately, a commercially viable and sustainable solution to convince vehicle manufacturers and logistics providers to switch over from traditional methods.
For more than 10 years since devising a steel constructed patented vehicle racking system known as R-Raks, Paul Donaldson at Trans-Rak International has been busy keeping up supply to meet demand.
With dozens of OEMs (Original Equipment Manufacturers) recognising the value of being able to ship their cars safely and securely utilising a reliable vehicle racking system which over time demonstrates cost effectiveness and sustainability, there is even more reason to opt for containerisation.
So, What Are The Advantages Of Putting Cars In Containers?
- Less environmental damage to vehicles than open on-deck shipment
- Less theft as within a protective container.
- Reduced manual handling door-to-door.
- Freight costs are falling and more regular container ships operating from more ports.
- Less damage from loading vehicles onto racks, and from exposed nails
- Optimised loading and unloading ratios
- Greener alternative to wooden racking which has to be built to order
- R-Raks are reusable and no need for dismantling and burning system after one use
- Avoids issue of toxic wood treatment chemicals.
Make the switch, talk to us today.