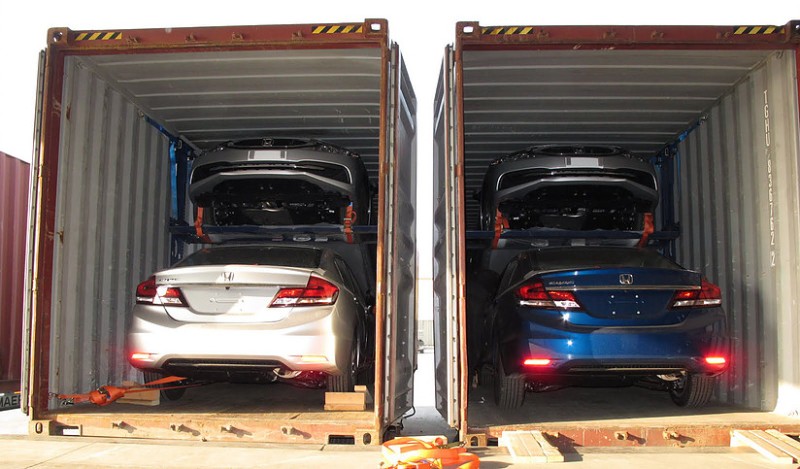 Containerising cars is not a new concept and it has the great benefit of guaranteeing delivery from point A to point B more or less anywhere in the world.
Knowing that your client's vehicles will not be touched again until they reach the final destination provides a measure of risk mitigation against accidental damage and theft. For much of the journey, they will be one of hundreds of containers stacked many layers deep on the deck of a container vessel, safe from pilferage.
No More String And Wood
The professional R-RAK system from Trans-Rak is a high tensile steel racking system that has revolutionised containerising cars. It's not just the ability to better optimise the space and pack in more cars, but also the techniques for rapid loading, the system of secure lashing and the clever minimisation of space required when the racking is being repositioned. The racking can be reused over and over, and the life expectancy is anywhere from seven to ten years.
Fast To Load - Loading 4 Cars In A 40 Foot Takes Just 55 Minutes
Installing the R-RAK framework inside a container is a fast and simple task because of the way the upright posts are designed. A chain hoist is then added for elevating vehicles to the roof space, while special devices chock and lash the other vehicles securely to the floor of the container. You can see our range of additional operating equipment here.
Repatriating The Racks Is Cheap At 60 Stored Per Container
This is a really valuable cost cutting feature. It means that very often only one container has to be repatriated with the racking folded inside. Up to 60 R-RAKs can be collapsed and stored inside a 40 foot container. Competitor products do not offer anything like this level of efficiency, which adds to the Trans-Rak value proposition for the R-RAK.
Continuous Improvement Program
We proactively seek feedback and opinion from our users that feeds into regular design review meetings. The outcome is two-fold:
New features added or weaknesses corrected in existing components
New additions to the product range to provide even greater functionality for car transport
One example of this kind of inspired development is the EL-RAK, which is the latest product from Trans-Rak and enables vehicles of all shapes and sizes to be loaded and secured outside the container before being moved inside.
We are extremely proud of our proven ability to deliver a great product and to improve on it year after year. You can be assured that a decision to adopt the Trans-Rak system is one that you will be pleased with, consignment after consignment.
See Our Racking Systems In Action
You can see the Trans-Rak R-RAK system in action in our videos here and here. You may also download our free eBook The Containerised Car transport Guide, which provides a great deal of detailed information about how the system works in real life.