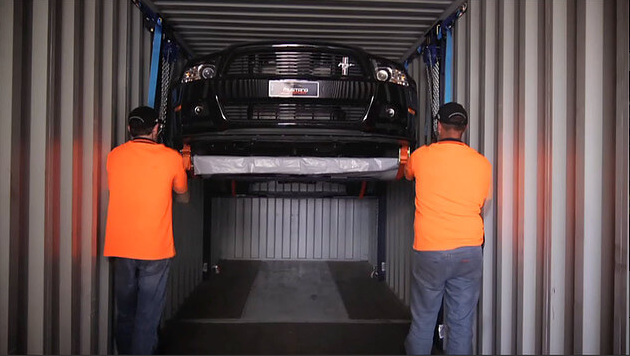 Wooden racks are a reasonably reliable method of securing vehicles inside a shipping container. However, the track record is such that very few suppliers use this option. There is a range of reasons for wood's lack of popularity. These include a risk of breakage, low levels of cost efficiency, increased labour, and a poor use of space.
With that CV, it's not a surprise that RORO ferries – despite being decades behind the rest of freight infrastructure – remain the go-to choice when transporting cars. Thankfully, a quiet revolution has completely transformed the way that internal container racking systems work.
Here are 4 reasons to put down the saw and embrace the steel:

1) Re-use Again, & Again, & Again… For Up To 10 Years
Wooden racks are typically a single-use affair. This is labour intensive, with low cost efficiency. However, reusable steel racks, such as our R-RAK, have neither of these problems.
Made of high-quality steel, which boasts excellent machining performance, extrusion, and corrosion resistance, R-RAKs have a life expectancy of between 7 and 10 years. At the end of this time, the racks can be recycled.
This quality is ensured by the steel fabrication process, which is governed by International Standards IS09001 and ISO14001. And it's easy to get the full benefit of this working life. When racks are not carrying vehicles, they can simply be folded into neat pods, meaning that up to 60 can be fitted into one standard size container for a highly cost-effective solution that quickly pays for itself.

2) Flexibility & Configuration
Wooden racks are a one-size-fits-all solution that makes poor use of the container space. This is something that the flexibility and manoeuvrability of the R-RAK has overcome.
Whether shipping a wide-chassis SUV, a neat hatchback, a sleek saloon, the latest Lamborghini, or a combination of them all, our racking systems can be fitted and tilted to securely make the best use of the container space. This means that unlike wooden racks, which can transport only one or two cars, R-RAKs can securely fit up to four vehicles in one container.

3) No Specialist Labour Required
Constructing safe wooden racks requires manufacturing skill, bringing with it the on-going risk that someone will do a poor job. As R-RAKs are re-usable, we've guaranteed the quality ahead of time. The only expertise required is understanding how to fit them properly.
This is something that anyone can learn. Like all of our racks, R-RAKs are easy to use. We provide training about how to use them safely and efficiently, as well as how to fold the racks so that they can be re-used. It takes just 55 minutes to load four cars into a container, and the process is a simple one, as this short video shows.

4) Low Maintenance Costs
Wooden racks are custom made so can't be reused for different vehicle sizes. Additionally, there is no safety testing or certification to guarantee that they won't collapse on the often-precious cargo below. R-RAKs offer straightforward, predictable, guaranteed peace of mind. With their high-quality materials, R-RAKs do not normally require any maintenance at all. There are few opportunities for the equipment to become damaged, either during use or when the pods are being stored.

Give Steel A Chance
Wooden racks were in vogue back in the early days of vehicle shipping container transport. In the 1960s, wood was a simple option, but it was one that had not been given careful thought.
Since we began innovating in 2000, steel racks have transformed the way that the container space can be optimised for vehicles, and have proven that safety, reliability, and a lengthy working life can be the industry standard for containerised racking solutions. Get in touch to discuss your shipping requirements in more detail.