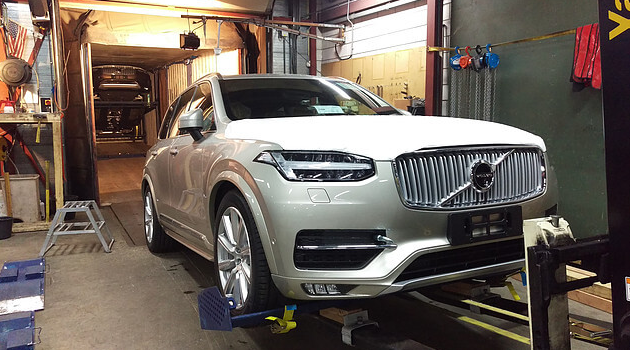 Are you looking for a trusted, experienced, and reliable solution for your containerised vehicle transport needs?
Founded in 2000, Trans-Rak is the forerunner of the racking technology that has revolutionised the use of containers for vehicle transport. By safely optimising the space inside the container, this efficient mode of transport is now available to car manufacturers and suppliers. Here's how Trans-Rak can help to streamline supply, enhance options, and reduce costs.

Envelopes Of The Sea
They're often referred to as 'envelopes of the sea', but for decades containers were not a common choice for vehicle transportation. This meant that the vehicle transport industry was denied access to the benefits that 90% of all other freight suppliers enjoy.
Fast, efficient loading and unloading
Access to the fastest shipping lanes
The widest choice of ports
Safety, security, and reliability

Re-Thinking The Container
At Trans-Rak, we set out to innovate a solution. The design for our racking systems was driven with core goals in mind: optimising space, safety, durability, and product flexibility.

Optimising Space
Traditional wooden racks waste valuable space inside a shipping container. This is simply due to poor geometry, and a lack of imagination. Trans-Rak's racking systems overcome this challenge by enabling vehicles to be safely and securely tilted into position – just as they are on a car transporter – so that four vehicles can be effortlessly placed into one container. This maximises space whilst reducing costs.

Durability
Trans-Rak steel racking solutions are built to survive. Made from high-strength steel, the racks can be used and re-used for between 7-10 years. Combined with other savings – such as being able to access faster sea lanes – this means that R-RAKs are an investment that quickly starts giving back.
When shipping the racks without vehicles, they simply fold into a neat pod. This means that up to 60 racks can be returned in a standard shipping container.

Safety
On RORO ferries, one poorly secured car can pin-ball around, causing damage to dozens of others. Furthermore, with many RORO journeys involving up to six lengthy change-overs between ferries, barges, trains, and roads, the risk of bumps, scrapes, and other damage to the product is high.
However, the combination of high-strength steel and optimised rack design means that R-Racked vehicles cannot shift during their voyage. Held carefully, safely, and securely, they stay sealed in the container for the whole journey. In over nineteen years since the company was founded, the R-RAK safety record is 100% when racks are fitted correctly.

Variety
At Trans-Rak, we offer more than just our market-leading R-RAK. The full range also includes the DL-RAK, which has a driverless loading system, making it ideal for safely loading wide vehicles. For more complex vehicles, such as stripped-down vehicles without wheels, the SKD-RAK is a tailor-made solution that is easily adaptable. Like our other racks, the SKD-RAK is fully re-usable and can be repositioned to fit the next order. Our latest innovation is called the EL-RAK which keeps the efficiency of the R-RAK but allows for vehicles to be loaded onto the system outside the container and rolled inside.

So, Why Trans-Rak International?
At Trans-Rak, we remain dedicated to driving the shift towards containerised vehicle transport. As we approach our 20th anniversary, we continue to offer reliable, guaranteed, efficient, and cost-effective solutions that give suppliers access to the most logical and important of sea freight solutions: the sea container.