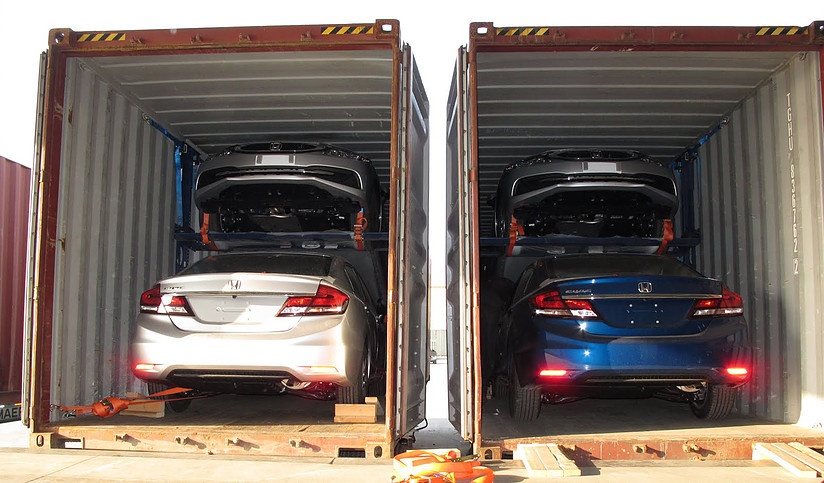 Running an automotive logistics business means shipping vehicles from various locations, often from multiple locations over the world. However, shipping vehicles by RoRo – still the industry standard – can be a risky business with the possibility of numerous people moving your car at different times during the trip. In addition, to arrive at the required destination there may be several modes of transport utilised during the long journey to reach you. These factors significantly increase your risk of damage or theft, as well as the potential for delay.
However this is beginning to change as more automotive businesses opt for transporting vehicles in shipping containers.
Vehicle Transportation Via Shipping Containers
Shipping containers are becoming a popular transportation method for moving cars from one side of the world to the other. The benefits are a reduction in thefts and damage to vehicles during the journey, in addition to faster time-frames for delivery.
However, shipping containers offer less floor space than is available through the RoRo method, and as such, mechanisms to increase the number of vehicles which can be transported in a single container will offer increased value for money in addition to reducing risk and faster turn around timeframes.
Capacity For Vehicle Transportation In Shipping Containers
Shipping containers come in standard sizes, 20, 40, 45 or 53 foot, which would allow you to transport very few vehicles at any one time utilising the available floor space. However with a car storage racking system you can at least double the number of vehicles which can be transported in each container.
If a larger container is selected to carry the vehicles, such as a 45 foot container, the number of cars which can be transported using car storage racking increases yet again.
Storage racking decreases your cost to transport each car, allowing you to have an increased number of new cars in your lot much quicker than ever before.
Car Storage Rack Systems
Car storage racking systems enable you to use space you otherwise wouldn't be able to access. These systems can be temporary 'wood and string' constructs put in place at point of embarkation, or sturdier, reusable systems made from stainless steel.
While wooden racking can be effective – if a bit rough and ready, they are time consuming to install, often cannot be reused and carries the risk of collapse. Considering these factors, wooden racking is the more expensive form of racking if you regularly transport cars.
The best solution for efficient containerisation is the R-RAK, a cost effective, steel car storage racking system.
The R-RAK is a reusable metal racking system which has been designed to fit into shipping containers to transport vehicles anywhere in the world. Safety tested, easy to install and environmentally friendly, each R-RAK can be used time and time again to transport multiple vehicles.
Obtaining More Information
If you would like further information about how container shipping for vehicle transportation is changing the face of the automobile logistics industry, download our free e-book The Containerised Car transport Guide by clicking here.