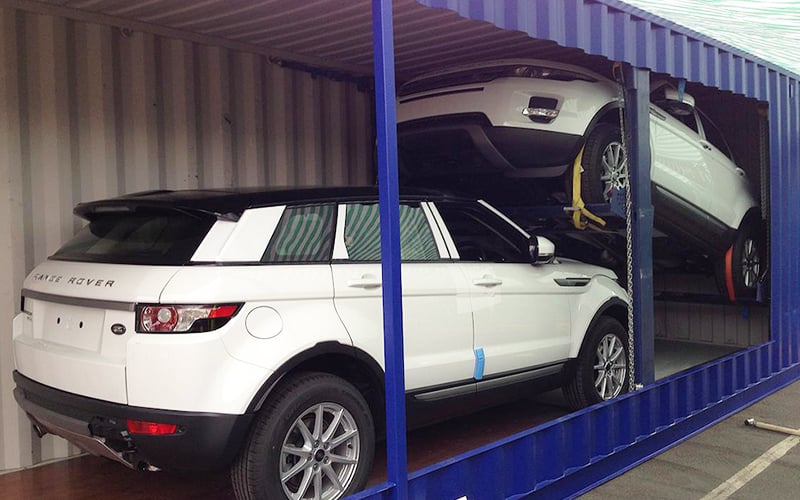 An unsecured car in a shipping container risks being thrown about like a glass jar inside a shoebox, with similarly damaging results. This is why it is so important to use efficient, robust, and secure car racking when transporting your vehicles by shipping container.

What Is Inadequate Car Racking?
What do we mean by inadequate car racking? In effect, any solution that isn't engineered to provide safety and security for the stored vehicles throughout the whole journey. Our reusable steel racking systems – the R-RAK and the EL-RAK – do exactly that. They allow the car to be manoeuvred safely into place, either within the container itself in the case of the R-RAK, or outside the container with the EL-RAK. Once in situ, the car is immobile. It won't be bumped or damaged as the ship moves about in the waves. It won't be broken into and the car stolen. The fittings won't come loose over time and there is no risk of it collapsing in bad weather, ruining the vehicle and the one beneath it as well.
The Downside Of Wooden, Single Use Racking
The same cannot be said, unfortunately, for many of the disposable racking solutions that are still widely used in car transport. These single use car racks are constructed from wood, pulleys and rope on the port side itself. When the cars reach their destination, the systems are normally burnt, or in some cases recycled. They are rarely used twice. We've seen all types of wooden racking systems deployed in shipping containers, from the absurdly flimsy to the fairly robust. All may be well-intentioned, but, apart from the obvious sustainability issues involved, even the best wooden car racks are susceptible to failure under stress. This is a serious drawback, because a racking failure can severely damage or write-off expensive vehicle cargo.
Cheaper, Stronger, Faster
Steel racking solutions are often touted as more expensive than their wooden alternatives, but in fact the opposite is the case. Using a system like our R-RAK actually cuts back on the expense of container racking. Wooden racking systems are labour-intensive to install and normally can't be reused, so they tie up a lot of resources and manpower on a single use product, the costs of which can't be recouped. Reusable steel racking, on the other hand, provides far better long-term value for money. Once the initial upfront investment is made, an R-RAK can be used time and again to transport cars from A to B in complete safety, while also saving time and resources getting the cars into place.
The Solution To Inadequate Car Racking
The solution to the problem of inadequate, unsafe, or cost-inefficient racking isn't to revert to Ro-Ro transport, but to invest in a better racking solution. Our R-RAK and EL-RAK reusable racking systems are engineered for maximum safety and ease-of-use. They can be set up in very little time and expand the carrying capacity of each shipping container from two cars up to 4 to 6 vehicles. And once secured in place, the vehicles are protected from accidental damage, theft, and vandalism for the duration of their journey. At the vehicle's destination point, the racking systems can be collapsed down and transported home via shipping container – with a carrying capacity of up to 60 R-RAKs per 45 foot container.
For a free quote, or to discuss your requirements, please call our Trans-Rak technical sales team today. You can also download our free Containerised Car Transport Guide by clicking here.