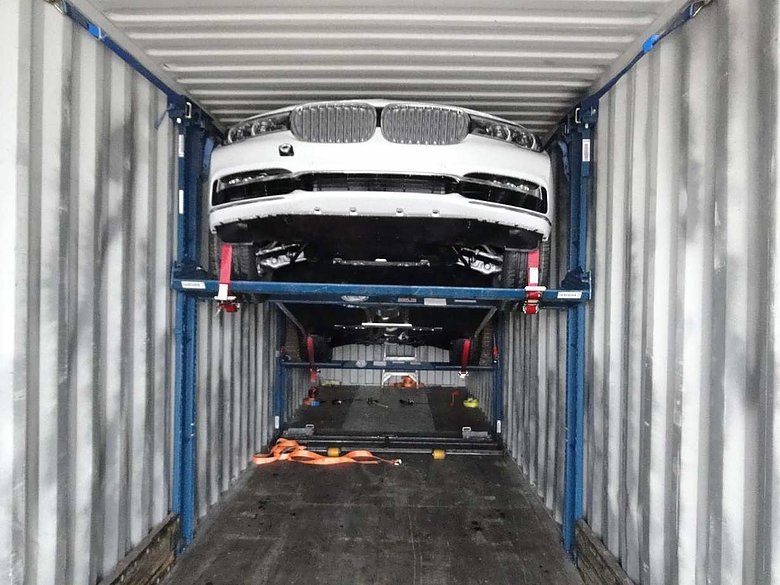 The engineered car storage rack systems pioneered by Trans-Rak offer an effective and sustainable alternative to temporary timber racking. Two of our most popular solutions are the R-RAK and the DL-RAK.
Both are innovative solid steel racking solutions that offer a range of options for transporting cars in containers, but there are also some important differences.
To help you decide on the right car storage racking system for your requirements, this article explores the similarities and differences between the R-RAK and the DL-RAK.
Similarities

Both racking systems are customisable and can be adapted to hold any vehicle safely. Trans-Rak systems are reusable, robust, quick and easy to set up, and avoid the risk of damage to the cars from splinters or collapse of the structure. They also allow logistics companies to maximise the number of vehicles transported in each shipping container.

Benefits of Trans-Rak loading systems at a glance:

• Fits any make and model of car
• Can be adapted to any size shipping container
• Allows you to transport different sized vehicles in one container
• Robust and light weight
• Makes loading quick and easy
• Requires no high-level skills to operate
• Lower environmental impact than wooden racking
• The same equipment for every loading

Now to the differences between the R-RAK and DL-RAK:
R-RAK: In-Container Racking System


If you are looking for a car racking system that lets you transport a range of standard consumer vehicles, the R-RAK in-container racking system is the ideal choice. The R-RAK maximises the space available by raising cars safely and securely into the upper part of the container. The R-RAK is an internal loading system, which means that the racking is installed in the container first, then the cars are driven into place.

The versatile R-RAK system is suitable for any standard ISO container and can be removed on arrival and then reused. The innovative design allows you to pack the R-RAK up into a pod for relocation - up to 60 small pods will fit into a 40" container.
DL-RAK: Wide-Vehicle Racking System


When you need to transport wider vehicles in containers, the DL-RAK (Driverless Loading Rak) is the perfect choice. This wide-vehicle racking system allows you to load vehicles that are too wide to be driven into a container, such as vans, military and emergency vehicles, lorries, tractors, or construction plant. The DL-RAK is an external loading system, in which the vehicle is lashed into place on the DL-RAK first and then loaded onto the container and rolled into position via forklift.

Made from high-grade steel, the DL-RAK is sturdy, secure and designed to accommodate heavy loads. It is also a sustainable solution; you can pack up over 200 DL-RAKS to return in one container, reducing costs and minimising the impact on the environment.
R-RAK or DL-RAK? Download Our Free eBook

To find out more about the benefits of our innovative vehicle storage rack systems and decide which is most suitable for your requirements, download our free Containerised Car Transport Guide.