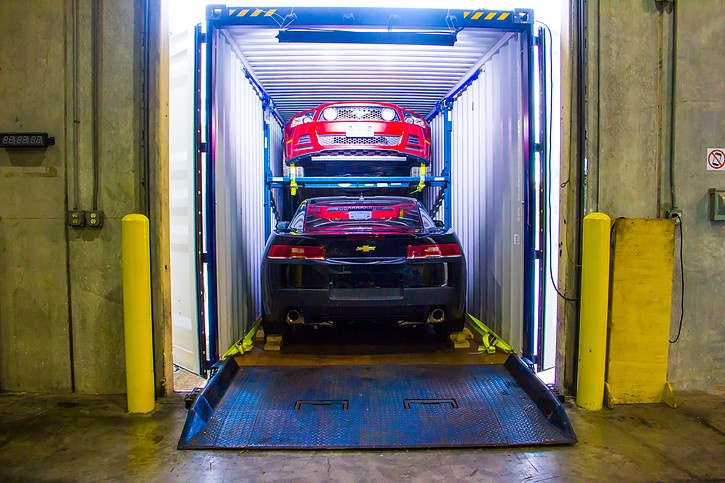 You may be sitting right now thinking about how you're going to ship this new batch of cars from the manufacturer to the dealership. There's a long journey ahead for the cars and your job is to ensure the cars arrive safely, securely and in pristine condition.

Container Shipping Or RORO?
You know you're going to ship the cars but which system are you going to use? Using containers for car shipping is sometimes more expensive than RORO because a normal container has limited space which can only accommodate two cars. After loading the cars, there will be unoccupied space above the car and also around it. This is why many companies feel that it is more wasteful to use a container than the RORO method. So, for container shipping to be a realistic option, you want a car racking system that is logistically viable, totally safe and easy to manage.
The need to reduce the cost of shipping with containers led to the development of a number of car racking systems. Racking is any construction that enables companies to load more than two cars in a container. Some have worked better than others at saving transport companies money – and they range from temporary 'wood & string' constructs to reusable steel racking. A good racking system can boost a shipping container's capacity to three to six cars, depending on the make and model of the vehicles.
You, therefore, need to look at the different options available to you and choose the best car racking system for your business.
What We Mean By 'Wood & String'
A 'wood and string' racking solution is a temporary construct made of wooden beams, straps and rope joists. It is normally cut into shape on site to fit the vehicles to be stowed in the shipping container. It is a simple solution but is costly in terms of materials and labour. These systems can rarely be reused and it is not usually economic to ship the raw materials back to port. 'Wood and string' racking is therefore usually burnt or recycled at its end destination. Although more sturdy than its name suggests, 'wood and string' racking is not always the safest option. They have been known to collapse during the journey or to impart damage to vehicles through splinters or excessive vibration.
Therefore, the system you want is, without doubt, a steel car racking system, such as our R-Rak.
The Advantages Of Steel Racking
Wood and string car racking systems have certainly worked in the past to increase the capacity of shipping containers – but in today's market, any system needs to make use of the best possible materials, technology, design, and engineering. That would be a steel car racking system, which is exactly what we specialise in at Trans-Rak.
Remember:-
Steel car racking systems can be used on hundreds of journeys. Wooden racking systems are used just once.
Steel car racking systems last. They do not splinter, flounder or break, like wood and string. Steel is resilient whereas wood and string are not.
A steel car racking system is less wasteful of space and holds more cars than a wooden or string racking system.
A steel car racking system is adaptable, quick and easy to set up.
Our R-Rak is a market leading example of a reusable steel racking system that incorporates a number of innovations. Firstly, it is modular and lightweight. Each unit can be collapsed down and transported by lorry, train or shipping container. In fact, up to 60 collapsed R-Rak units can be accommodated in a single 40 foot shipping container. Secondly, they are simple to adapt to different vehicle consignments, meaning they can be used multiple times and installed on site using a small team. Thirdly, our quality materials and construction methods make the R-Rak one of the strongest steel racking systems available, with no sacrifice on strength being made to cut down on the racking's weight.
Summary: 6 Reasons Why You Should Use R-Rak
R-Rak is completely safe and reliable
R-Rak is easy to set up and easy to use
R-Rak is an adaptable car racking system, exactly the same equipment works with vehicles of any width and size
R-Rak makes use of high-strength steel and is reusable time and again
You can get multiple cars into the R-Rak system, more than any other system
And R-Rak is super cost effective too
Your cars are safe on the R-Rak car racking system: there is hardly any movement like there is with a wooden or string system, your cars cannot be damaged, you can save money by shipping many cars at the same time, and anyone working with this system will be able to use it, understand it and grasp it quickly. There are no complications.
Time Saving Solutions From Trans Rak
Because the R-Rak is a logistically easy car racking system to use, no time is wasted setting up your vehicles in their containers for the onward journey. If anything, time is saved. Your cars will arrive faster than if you were to use a different system. It makes the entire vehicle logistics supply chain easier.
Find out more about container transport for vehicle Logistics in our free e-book The Containerised Car Transport Guide. The guide explains all you need to know about car racking systems, including the R-Rak and its competitors, with a cost comparison to traditional RORO vehicle transport.
To discuss your logistics requirements, you can request a quote by clicking here, or you can chat to our team by phone on (+44) 1926 40 82 82, or by email at mail@trans-rak.com. We look forward to hearing from you.