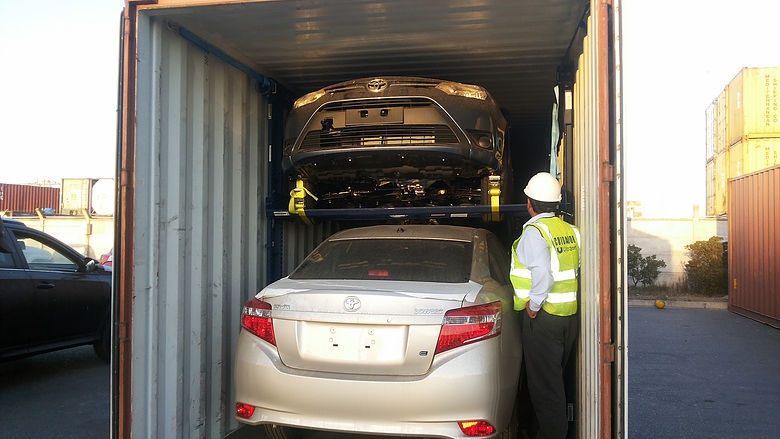 Chilean automotive logistics providers KLA have identified Trans-Rak's versatile R-Raks vehicle racking system as the best way to ship more cars from more ports and cut freight costs at the same time.
Seeking an alternative to Ro-Ro, KLA wanted to maximise the containerisation of the vehicles it was handling and increase consignments of different brands and models, including the Yaris Sport and Sedan, Chery IQ and Fullwin; SUVs like the RAV4, Rexton, Chery Grand Tiggo and pickups such as the Actyon Sport, among others. Their search for a solution led to the discovery of R-Raks, which allow loading of 3 to 4 vehicles per container depending on the model, compared to only 2-3 previously, which in turn reduces shipping to every two weeks.
Javier Kuhlmann, general Manager of KLA commented: "We were looking for a sustainable solution to supply every single port in our long and narrow country, and an alternative to being over-reliant on the Ro-Ro vessels and terminals. R-Raks helped us to get the most out of containerization to make it more cost effective and to give us the flexibility to move more cars more often from more locations. I can confirm that Toyota's feedback to our improved service has been very positive indeed!"
Before KLA discovered the R-Rak system, cars were transported by trucks and coastal shipping lines, using a different structure which by comparison was very large, heavy and restricted to stacking only 3 vehicles per container.
KLA reported that R-Raks have been found to be more efficient and versatile, as well as reducing handling, so less damage to vehicles. Safe and secure, R-Raks' increased capacity and streamline design accommodates more vehicles per container, thus reducing overall freight costs.
KLA was established in response to managing the differing needs of its clients by consolidating a range of logistics services into a single point of contact, making the whole process so much easier and faster for clients. KLA offers wide experience and great flexibility so clients can have confidence that KLA can handle any consignment of imported goods efficiently. R-Raks have been introduced into the Chilean market by KLA via Outsourcing Services Ltd and are being used by a fully trained team able to provide vehicle transportation services across the country.