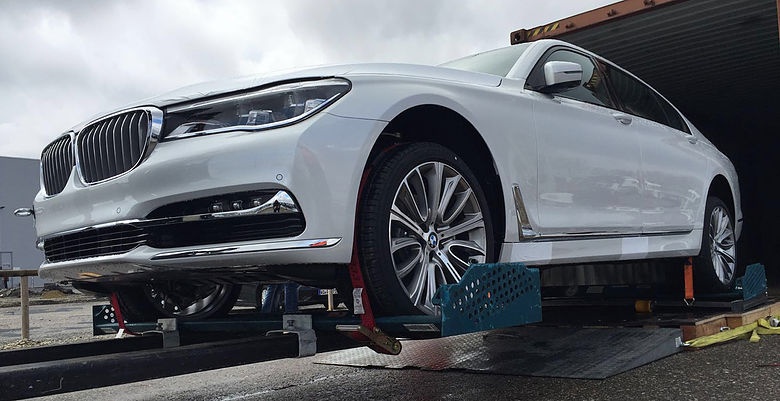 Trans-Rak International, designers and manufacturers of racking systems for automotive logistics, have announced the launch of an innovative new solution for loading wide vehicles into containers.
The Driverless Loading (DL) Rak is a mobile loading device, developed by Trans-Rak to overcome the challenges of loading extra wide vehicles into containers. The large vehicles are loaded onto the DL-RAK outside the container where all windows and doors are locked and the car pre-lashed. The DL-RAK, with car onboard, is then rolled into the container until it reaches the automatic chocks which secure the vehicle without the need for an operator inside the container. As no drivers are required for loading, potential for damage to doors and vehicle sides is effectively reduced to zero, with loading time also significantly reduced.
Removable and fully reusable with a lifespan of 10+ years, the DL-RAK is also incredibly cost-effective and much more sustainable than the traditional use of wooden pallets or skids, which are less stable, less safe and burned after a single use. Of steel construction and simple to use, this latest invention from Trans-Rak looks set to be the catalyst for the shipping of more cars than ever by container.
Managing Director of Trans-Rak Paul Donaldson comments, "Moving vehicles using wood is rife with certification issues; the material must be chemically treated and stamped according to the country of use. Steel products on the other hand have universal approval. In developing the DL-RAK, which has also been tested and witnessed by China Classification Society (CCS), we have provided a greener solution which has made the whole process much easier, it protects vehicles from damage and essentially removes all barriers to shipping wide vehicles in containers.
As the DL-RAK is universal, it can be used to load any other wide vehicle from Ferraris to Land Rovers. We have already had successful trials and tremendous interest in the DL-RAK; it is being put into production and is available to order now."