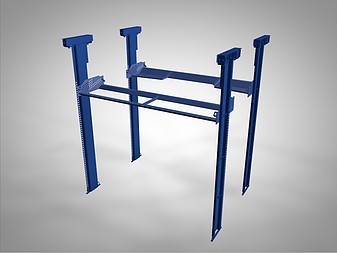 Celebrating the 10th anniversary of the launch of its racking systems this year, Trans-Rak has commissioned a major research project with Loughborough University, to prepare for the decades ahead.
A pioneer in steel vehicle-racking systems, Trans-Rak, is working with the next generation of Product Design Engineers to compare the positive environmental benefits of using R-Raks against the negative impact of using wood constructed frames.
An interdisciplinary team of five masters students from Loughborough University are undertaking the project, which entails a complete sustainability assessment as well as investigating new design approaches to make future R-Raks lighter, even easier to use and quicker to erect.
Students will also be making the business case for Trans-Rak systems to be used to transport cars in container vessels by analysing how they prevent damage to vehicles through minimal handling and less exposure to the elements, compared to the traditional on-deck unsecured method, i.e. RORO.
Under the direction of Leila Sheldrick, Lecturer in Product Design Engineering at Loughborough, the students are halfway through the project and have completed the comparative environmental assessment. Results are due shortly.
She says: "The students are enjoying the challenge and are really engaged. It is a chance for them to employ commercially relevant skills, having spent five years studying, including a year on placement in industry, so they have some context for the study."
Trans-Rak expects the project to quantify the environmental benefits of its existing products, as well as suggesting modifications and improvements to the design, taking the organisation forward through the next ten years.