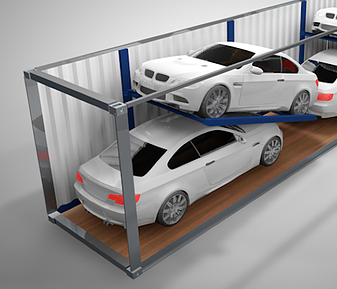 Shipping costs for cars in containers were once perceived to be far more expensive than Ro-Ro; but a new study illustrates that this is not necessarily the case anymore and that there are clear advantages to containerisation, both in terms of transit speed and safe delivery.
"Historically, Ro-Ro has always been the dominant option for shipping vehicles in volume, but in more recent years, containerisation has emerged strongly as a viable alternative," says Paul Donaldson, Managing Director of leading racking systems manufacturer, Trans-Rak International. "This new report demonstrates where the numbers clearly add up for containerisation and confirms that it makes commercial sense for carriers and carmakers to take a more strategic view, rather than simply defaulting to Ro-Ro."
Presented as an academic dissertation to the World Maritime University in Malmo, Sweden, by Sean Xu, Evaluation of Shipping Finished Automotive in Multimodal Containers*, examines the logistics of door-to-door automotive transportation, investigates the gains and 'cost per car' of Ro-Ro compared to shipping cars in containers, and highlights the important role played by flexible, re-usable racking in making the case for containerisation.
The report confirms that when it comes to shipping a consistently large quantity of vehicles in regular slots, Ro-Ro may still fit the bill; however, where there are changes to schedules and fluctuating volumes, containerisation often proves more the convenient and cost-efficient choice. Larger Ro-Ro vessels must follow deep sea routes, travel more slowly and there are fewer ports with Ro-Ro terminals. In contrast, container shipping has more frequent sailings, with quicker transit times and a wider choice of ports.
Clearly, containerisation is usually the best option for high value vehicles which need to be delivered from A to B in pristine condition. In a Ro-Ro environment, vehicles are subject to considerably more handling in the course of being driven on and off deck and therefore more vulnerable to damage. This, added to constant exposure the elements throughout the shipping process, means that even for mass market vehicles, it is essential to factor in additional costs for damage repairs as well as time lost through subsequent delays in transit.
Wooden systems are still widely used to ship cars in containers, but these are relatively expensive to build, often not reliable or safe and are for single use only. By switching to steel systems which are flexible, robust and re-usable, significant cost savings begin to kick in, even after factoring in the initial outlay and product training.
According to Paul Donaldson, racks manufactured for shippers almost ten years ago are still in continual use. Not only is the cargo protected, more cars can be fitted into each container, loading and unloading is much quicker and the racking can be dismantled for the return journey, fitting 65 pods in each container.
Summing up Paul Donaldson says: "It's great that an independent assessment comes to the clear conclusion that Ro-Ro is not always King; where safe and secure delivery, speed of transit and final destination are prime considerations, cars in containers is the way to go."
*Trans-Rak International is quoted as a reference source.