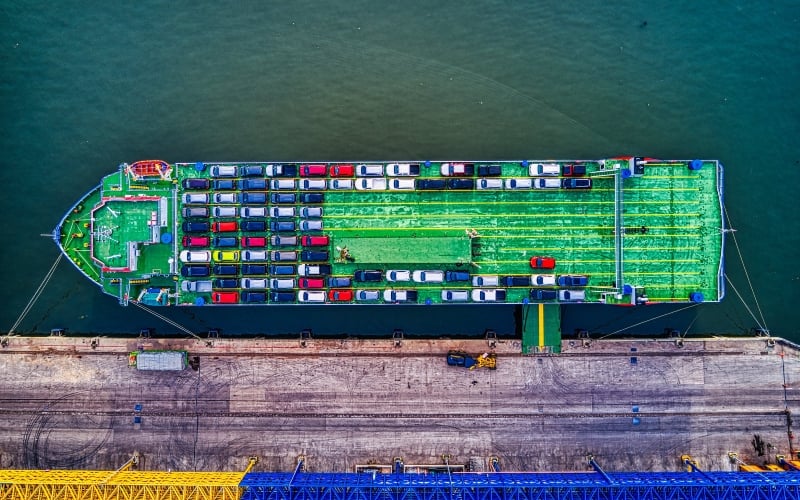 Indonesia is a hub for car transportation in East Asia, with many cars being shipped into Tanjung Priok port in North Jakarta, and from there to Asia, Australia, The Americas, and other locations. The shipping lines throughout Indonesia – the largest island archipelago in the world containing over 14,000 islands– are also busy with car shipments going from island to island, especially the population centres of Sumatra, Java, and Kalimantan.
For car transport companies, shipping within Indonesia, or via Indonesia with a change at Tanjung Priok, poses a range of problems. When using a roll on, roll off (Ro-Ro) transporter ship, each change involves physically driving the vehicles off the ship to a portside storage area, where they await onward transit. In a heavily forested and mountainous island nation such as Indonesia, overland haulage routes are few, so another ferry is usually necessary to take the shipment to its next port of call. Depending on the journey, the season, and the final destination, several such changes may be required before the cars leave Indonesian waters.
This Is A Problem For Three Main Reasons:
1) Each change of ship adds time to the journey, with disembarkation, customs clearance, vehicle storage and handling, and then embarkation onto a new ship. Clearing Indonesia can add days to a long journey in this way, and delays can be expensive – reducing productivity and leading to missed market opportunities.
2) The more people, contractors and third parties are involved in these exchanges – from porters and drivers, to inspectors, security guards, and storage companies – the more cost is added to the journey and the lower the profit margin from vehicle sales.
3) Each time a vehicle is driven or handled on a journey, the risk increases of accidental damage, theft, or deliberate vandalism. Every incident decreases the profitability of the consignment and affects your insurance premiums, so the golden rule is to keep the touch points to as few as possible.
The Solution: Containerised Car Transport
For these reasons it is little surprise that shipping container transport is popular for shippers using Indonesia. The containers can simply be lifted on and off ship by crane onto a portside holding area, without anyone needing to see or touch the consignment inside. For cars, this brings the clear advantage of not having to load and unload between changes of transport – a car in transit is most at risk of damage when embarking or disembarking a Ro-Ro ferry. The anonymity of a shipping container also deters thieves, who will be unaware of the valuable cargo locked safely inside. The result of moving from Ro-Ro to container shipping is, therefore, a reduction in transfer time, less accidents and prangs, and fewer thefts. Money saved. Time saved.
Find Out More
If you'd like to find out more about how our shipping container racking solutions can simplify the process of island to island car transport, get in touch with one of our experts today. We are taking and fulfilling orders as usual during the pandemic, and look forward to saving you time and money on your transportation costs.
Image Source: Pexels