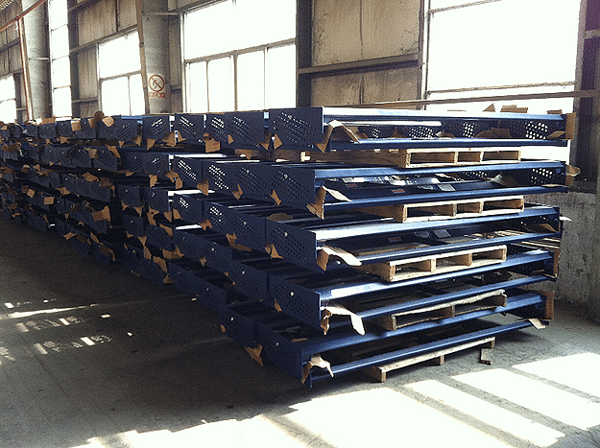 The global automotive industry has predominantly used the Roll on Roll (RoRo) method for transporting vehicles since the method was introduced after the First World War; however, this method is known for placing your vehicles at risk of damage from operator error and theft. The more changeovers involved in a journey the greater the risk becomes. The solution to this problem was transporting vehicles by secure shipping container; however while the risk of damage was reduced, with a small floor space this option was also more costly.
At Trans-Rak we have developed a range of reusable vehicle storage racking systems, enabling the transportation of vehicles in shipping containers to reduce risk of damage, while giving you the opportunity to use the open space above the floor area to transport additional vehicles.
Damage To Vehicles During Transportation
RoRo is a cost effective option for global sea journeys, but the additional costs of loss and sustained during the journey soon add up over time.
Most damage occurs during vehicle handling at embarkation points. Major accidents are rare but minor jinks are not uncommon – and even minor damage can be enough to disqualify a vehicle from the new car market if it is not addressed.
At the start of a sea journey, drivers 'roll' your vehicles onto the vessel and secure them in place. During the course of the trip your vehicles are available for access at any time which can lead to damage and/or attempted theft. More common is damage from vibrations or weather while at sea.
If your vehicles need further transportation to reach their end point they are then re-loaded onto another carrier. During the course of the journey, loading and unloading can occur many times, each time providing an opportunity for damage to occur.
Reduce Damage By Transporting Your Vehicle In A Shipping Container
Shipping containers are the safest method when it comes to transporting vehicles because they are not accessed at any time during the journey. When your vehicles have been loaded into a shipping container it is sealed and remains so until your precious cargo reaches its final destination.
Shipping containers can be transported on boats, trains and trucks, so if your vehicles are delivered to a port some distance from where the customer is located, entire containers can be picked up and put on a truck or train to be transported to their final destination. As your vehicle is not accessed and the shipping container is water and air tight, there is no risk of damage due to the elements or human error.
Why You Need A Trans-Rak Car Storage Racking System
While transporting vehicles in a shipping container is clearly the safest option, if you are only using the floor space of the container, it can be expensive. However, if you use a Trans-Rak car storage racking system you can halve the cost of transporting your vehicles by utilising the space above the vehicles on the floor of the container.
This unique, reusable system allows you to transport 4 or 5 medium sized cars in a 40 foot container.
Arranging Your Trans-Rak Car Storage Racking System
If you've decided to choose the safest method to transport your vehicles and want to manage your cost by maximising the space in the shipping container, get in touch to find out more about our various systems.
For further information please download our free e-book The Containerised Car transport Guide.