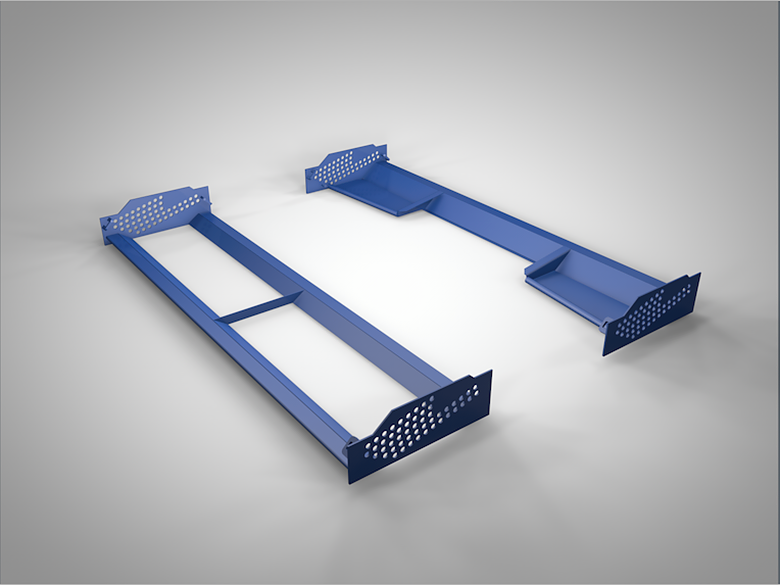 Trans-Rak's R-Rak removable vehicle racking system has been put to the test and has come up trumps, strengthening the case for containerisation and clearly demonstrating that the steel R-Raks have substantially lower environmental impact compared to traditional wooden racking.
The interim results from a sustainability and Total Product Design* project, by a team of Masters students at Loughborough University examining the business case for the system, confirms that R-Raks can reduce freight costs and offer a viable alternative to other freight methods such as Ro-Ro.
Reducing Transit Time
Although the number of vehicles that can be transported via containers is less than the bulk option of Ro-Ro, transit time can be faster because of higher frequency of travel afforded by the option of overland rail.
Analysing a case study of Chery cars being transported from the WuHu factory in China to Moscow, the Ro-Ro journey - with sailing time, queuing in terminals plus loading and unloading time - equates to a 44 day trip, whilst containerisation by rail reduces this to 23 days.
Less Damage
Containerisation also minimizes car damage as there is half as much handling by humans compared to Ro-Ro. Further, containers afford additional protection during shipping, versus the exposure to weather which can occur on the exposed deck of a ferry. No bills for damage also means no delays in processing claims.
Lower Environmental Impact
A crucial aspect of the Total Product Design project was to investigate R-Raks from a sustainability point of view to see if this aspect could be improved further. Steel constructed racking scores well on the environmental front because it is reusable, whereas wooden racking is for single use only and then must be disposed of.
A LCA (Life Cycle Assessment) also revealed that a single R-Rak delivered 56 useful cycles over a 7 year service life in use for rail transit. Conversely 56 wooden racks would be required for each R-Rak over a 7 year period, clearly having a much greater negative environmental impact than the R-Rak, even taking into account the manufacturing process. One of the issues with wooden racking is the fumigation agent Methyl Bromide used to treat the wood which is harmful during application and incineration to both humans and the environment.
Design Solution
The final task for the Loughborough team will be to factor in the findings from the commercial viability study and Life Cycle Assessment and examine ways to make R-Raks more competitive and reduce environmental impact further. An aspect of design which might support reduced freight costs would be the development of a lighter weight R-Rak, making it even easier and quicker to assemble and disassemble, as well as cheaper to send on its return journey.
A lighter weight R-Rak would also be more sustainable, as reducing the mass of the product in turn reduces its environmental impact. The challenge for Trans-rak will be to achieve this whilst maintaining the R-Rak's robust design.
Paul Donaldson, MD at Trans-Rak International, commented: "It has been a great experience allowing bright young minds to take a fresh look at the R-Rak which is a patented design developed over the last ten years. We welcome any study that will help us strengthen the business case for containerisation and await the final conclusions which could point the way to a more competitive and environmentally sound design solution."
*Title: Total Product Design: Trans-Rak Intermediate Report
Wolfson School of Mechanical & Manufacturing Engineering, Loughbough University
Authors: Max Coleman, Rebecca Grant, Aron Pye, David Sharpe and David Wellbeloved