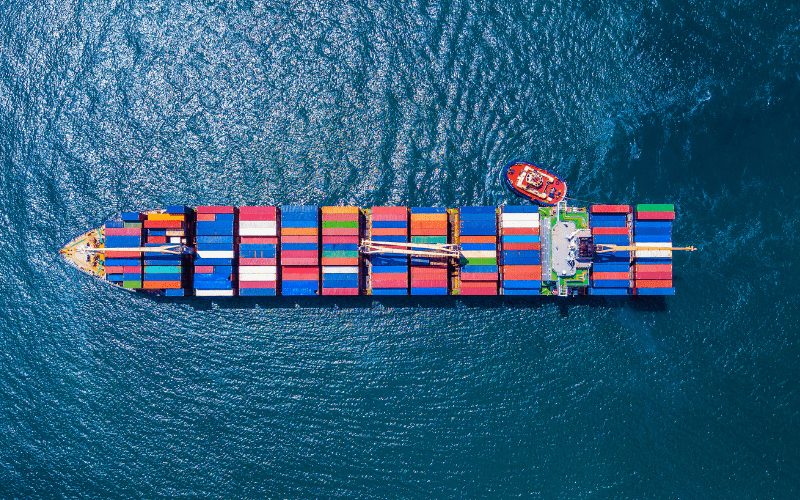 Poor old RoRo shipping has taken quite a bit of flak on this blog and others over the past few years, for its deficiencies in long haul finished vehicle logistics (FVL) – especially between Far Eastern and European and American markets. While still a viable option for short haul shipments, generally speaking, RoRo has become more expensive, riskier, and – since last summer – more difficult to source than container shipping for FVL.
The Conundrums Of Container Shipping For Cars
Container ships seem to be the way forward for car transport, especially with more vessels hitting the seas every year, and a strengthened commitment to energy efficiency and sustainability across the sector. But how do you get around the expense and impracticality of container shipping when transporting cars?
Well, one viable solution is an interior racking system such as our EL-Rak, R-Rak etc, which you can find out more about on our product pages.
These racking solutions can double or triple the carrying capacity of shipping containers which, now that the 'shipping container price bubble' has finally burst, mounts up to very significant haulage savings!
New Open Racking System From Cosco
Another FVL shipping solution has recently been introduced by Cosco, a Chinese-owned operator and one of the largest shipping lines in the world. In fact, there are two combined Cosco initiatives for 2023 that may interest automotive logistics businesses.
The first is a new shipping route connecting the EMEA (Europe, Middle-East & Africa) consumer region to the markets in China, South Korea, and Japan, and going through Piraeus Port in Greece. The first car shipment embarked at the Greek port on 21st December 2022.
Connected to this initiative is a new 48ft open flat racking system designed to carry three cars, and capable of loading at the container terminal and transfer by crane onto a container ship. Each rack is an open sided structure that can be stacked three high, for a total carrying capacity of nine cars, at a height of three standard shipping containers. It's an impressive new product and seems to combine some of the benefits of RoRo shipping with some of those of container shipment – and the target market seems to be FVL businesses migrating over to container shipping from Ro-Ro for the first time.
But Is The Open Flat Racking System As Good As An Intra-Shipping Container Racking Solution?
We're not convinced that it is, no. It's good that there is growing diversity and choice in the market to allow FVL businesses to plan their budgets and shipments, but so far, we haven't seen anything to persuade us that the flat racking system solves any of the fundamental issues connected with RoRo shipping.
For Example:
Cars shipped by flat racking system are still exposed to the elements at sea, increasing the risk of damage compared to containerised transport. This could raise insurance costs.

Drivers have to be extremely careful loading vehicles onto the ramps of these flat racking systems, with a heightened risk of bumps and scrapes.

Once racked and ready to go, cars are completely visible at the car terminal and container terminal until they can be transferred to the ship, making them prime targets for vandalism and theft. On the contrary, containerised vehicles avoid this risk by being completely anonymised all the way to the port (if they are shipped by train) and then onto the ship – would-be criminals have no way of knowing what's inside the containers. Again, this increased risk of theft could raise insurance costs, as well as increase the overall cost of risk mitigation across a long-haul journey.

Each open rack has a maximum carrying capacity of three cars, and they all have to be of a standard size for it to work. A good containerised racking system, on the other hand, can accommodate up to four cars, and are perfect for mixed vehicle consignments of different sizes and models.
Our Opinion
In our opinion, a containerised racking solution is more efficient, safer, and more secure than loading your vehicles onto open racks. In particular, our racking solutions are more certified, more extensively tested through practical experience, and have more proven engineering quality than the new solutions from Cosco. They are, quite simply, a safer bet for risk conscious car shipping businesses.
To find out more about our racking solutions and for support making the best investment for your business requirements, please call one of our technical sales team today on +44 1926 40 82 82.
Image source: Canva