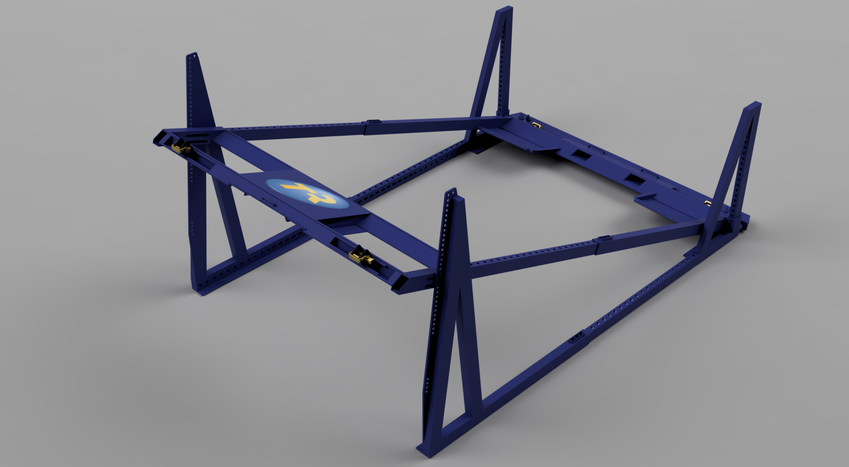 We are delighted to announce that our new external racking solution, the EL-RAK, is available to order now. As regular readers of this blog will know, the EL-RAK has been in development for over 12 months. Development was carried out in consultation with key customers and stakeholders in the industry, and the product has undergone extensive testing and certification before being released to the market. Along with all Trans-Rak products, the EL-RAK is certified for quality internally by Singamas quality controllers and independently inspected by China Classification Society.
Advantages
Strong and lightweight
Tested carrying capacity of 2500kg per vehicle
Fast to load
Easy to operate
Easy to collapse and high return rate of the racking
Fits all ISO container sizes
Adjustable to fit all makes and models of vehicle
Allows mixed vehicle cargoes within the same shipping container
Fully reusable
Configuration
As you can see from the explanatory diagrams and gallery pictures on our EL-RAK product page, the racking solution is a simple, modular design on which a vehicle is secured outside the shipping container, before being manoeuvred into place by a forklift.
Carrying Capacity
Using just two EL-RAKs can increase the carrying capacity of a 40 foot shipping container to 4 vehicles, reducing the cost per unit of container transport. The flexibility offered by the EL-RAK is remarkable. The adjustable cassette are compatible with 20 foot, 40 foot, 45 foot and 53 foot shipping containers, and can be used in a variety of configurations:
Two raised + one floor vehicle
Two floor + one raised vehicle
Two raised + two floor vehicles (using two EL-RAK units)
Three raised + three floor vehicles (using three EL-RAK units with small cars)
After use the EL-RAK is removed and collapsed for return transport. Up to 45 EL-RAKs can be stowed inside a 40 foot ISO shipping container.
Orders & Enquiries
A detailed product brochure can be downloaded here, featuring prices, order details and technical specifications. You can also request a quote online by clicking here.
We are happy to discuss your requirements and help you find the most appropriate racking solution for your business. Call us today on +44 1926 408282, or get in touch through our online contact form.