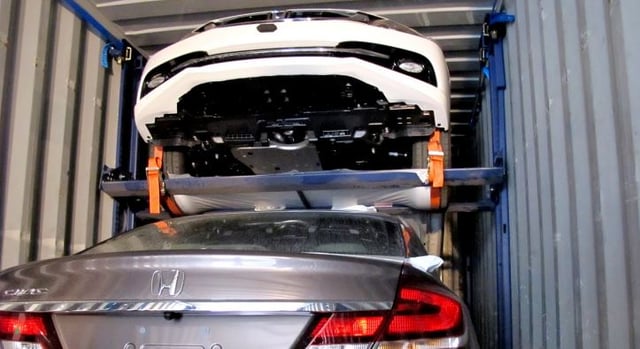 Wooden racking systems are still a popular means of increasing the capacity of container shipping, despite their limitations. However, thanks to innovations in automotive racking systems, wooden constructs are no longer the only option. Steel racking systems have come to the fore, providing a secure and cost-efficient means to transport vehicles in shipping containers.
Advantages & Disadvantages Of Steel Racking
Generally-speaking, steel racking systems offer so much more than their wooden counterparts. Steel racking systems such as the R-RAK are reusable, having a much longer lifecycle than one-time-use wood racking. While new wooden racking must be built each time a vehicle is being transported, steel racking can be reused many times over, greatly reducing the man hours required per vehicle. Another huge advantage to reusable racking is that the cost per use of a reusable system is far lower than that of a wooden system. When transporting is complete, steel racking can be dismantled and stored elsewhere, freeing up room in the container for other items to be shipped.
Where wooden racking systems cannot be guaranteed for safety, steel racking can be both tested and certified, offering the purchaser a guarantee of continued reliability.
In terms of disadvantages, many steel racking systems have the drawback of being bulky, heavy and requiring greater initial investment. They require a lot of manpower to install and specialised equipment to load vehicles into the containers. However, over the past decade there has been a lot of innovation in the industry, with two products taking centre stage: These are the VUCAframe and our own R-RAK system. Both systems are introduced below:
The VUCAframe System
The VUCAframe is a robust stackable steel frame, capable of taking on three vehicles on each of its two levels. This allows for six vehicles to be loaded in a stacked configuration but the stack height is higher than a container which makes them more expensive to handle and transport than a shipping container with comparable footprint. This system cannot be adapted to accommodate vehicles of different sizes within the same container.
To use a VUCAframe the vehicles are simply driven onto the racking and secured in place. The frame can then be used for multimodal transport; lifted by crane onto a car transporter or train.
We have no reason to be unfair to our competitor: The VUCAframe is a good racking system; strong, secure and versatile. However, its size and weight are a disadvantage. The robust superstructure means it is not easy to collapse a VUCAframe down for return shipping, nor can it achieve an equivalent number of frames per return container. It also requires heavy lifting equipment to manoeuvre the loaded racking into position.
The R-RAK System
The R-RAK system is a removable racking system that allows you to double the carrying capacity of shipping containers. When fitted with an R-RAK, a container can accommodate four to six cars, depending on their size.
The system features a two tier pallet system linked to four removable steel pillars. The first vehicles are driven onto wheel frames, which are then raised and secured to a steel support structure. Additional vehicles can then be driven into the lower space and secured with wheel chocks.
The R-RAK is completely collapsible, allowing it to be dismantled and stored in a small space. For return shipping between 40 and 60 dismantled R-RAKs can be transported in a single shipping container. This is one of the major differences between the R-RAK and the bulkier VUCAframe, as well as all other similar cassette racking systems.
Container Clearance
The R-RAK maximises the available space in any ISO High Cube 40ft or 45ft shipping containers, ensuring there is enough clearance between vehicles and container walls to meet manufacturer regulations. Of course, it is possible to shorten other racking systems to meet manufacturer regulations and continue to load vehicles, but doing so will limit the type and size of vehicle that can be loaded. The R-RAK system allows for the safe and legal transport of SUVs, 4x4s, people carriers and large saloons.
Another R-RAK product, the Pallet Wide system, allows for the width of the frame to be adjusted to allow for vehicle loading in Pallet-Wide and 8'6 wide shipping containers.
Closed Construction
Another advantage of the R-RAK is the way it encloses vehicles safely within the confines of a shipping container. Systems with open-sided construction, such as the VUCAframe, can expose loaded vehicles to damage from loading equipment, weather and other hazards commonly encountered during transport.
Both the VUCAframe and R-RAK represent innovations in automotive racking systems. But where efficiency, multi-modal capability, ease of loading and unloading and vehicle protection are concerned, in our opinion the R-RAK is the more versatile system.
How To Get Better Value From Containerised Shipping
To find out more about the benefits of container shipping and how R-RAK can help you save money, please download our free Containerised Car Transport Guide. This new eBook explains how optimised container shipping can help you reduce handling, minimise damage and maximise your transport capacity. Click here to claim your copy.