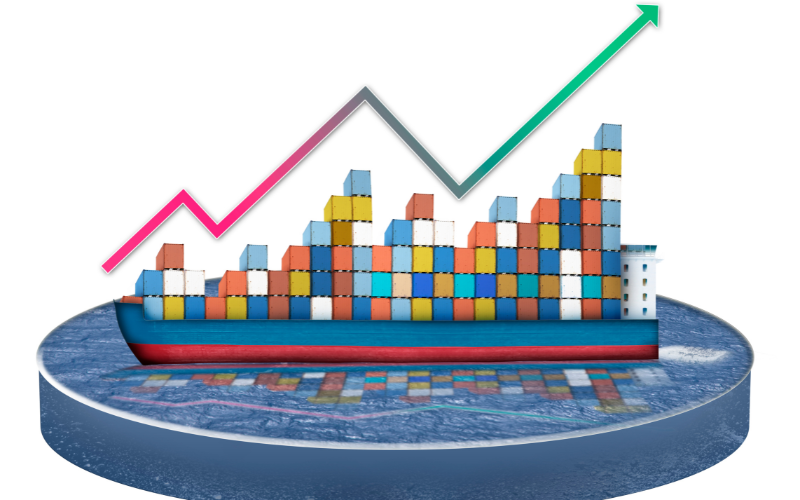 The modern container shipping sector is undergoing an exciting period of development in 2023. Infrastructure and technology advancements around the world are enabling logistics businesses to move merchandise (including cars) around the globe faster and cheaper than ever before. In this article, we look at the main trends and challenges facing the industry as we start the New Year.

Improvements In Infrastructure
Container vessels capable of carrying thousands of containers are now as much as 20% bigger than ships launched in previous years, with new designs granting better stability and efficiencies, such as improved fuel economy. Newer terminals at ports worldwide have enabled streamlined transfer and customs clearance processes for consumer goods, further cutting down on delivery times for high value consignments. With this rapid transformation of the container shipping industry, a business considering shipping options needs to select its provider carefully – and ensure their provider is up-to-date with the latest developments so they can make use of these improvements.
A Container Shipping Price War?
Shipping container prices were notoriously high during 2020 and 2021. These dropped during Q1 and Q2 2022 but have subsequently fluctuated widely in response to global events – such as the Ukraine war and the high cost of oil. Container shipping prices are likely to remain volatile as global economic and political trends shift in 2023. Many shipping businesses have already taken steps to prepare themselves for potential 'price wars' this year. In an effort to maintain their competitive advantages, many shipping companies are investing heavily in modernising their fleets and exploring innovative methods of cargo transportation optimisation such as artificial intelligence, blockchain and advanced analytics, while taking steps to decrease costs and develop more efficient supply chains.
The ultimate winner of this price war is going to be the customer – with automotive logistics companies able to take advantage of lower prices, better stowage deals, and more advanced technologies to improve visibility and reduce risk during long haul journeys.
Challenges Facing The Sector
At the same time, increasing environmental regulations could lead to changes in pricing strategies, as shipping companies foot the bill for drives towards 'net zero' by governments worldwide. All these factors could contribute to a dramatic shift in container shipping prices during 2023.
Let's also not forget that the shipping sector is still reeling from the challenges it faced in 2020 and 2021, ranging from cost pressures and congested ports to reduced cargo volumes due to the pandemic. As we look ahead into 2023, these challenges are set to become even more complex as global trade struggles to recover from the economic impact of COVID-19 in a context of high inflation and geopolitical instability.
Fleet efficiency, port security and workforce planning are all key considerations for the container shipping sector in this uncertain period, as carriers face strong competition alongside the rising costs of new technologies. With risk, uncertainty, and complexity likely to increase over the next two years, the container shipping sector must be agile and resilient in how it responds to these challenges on both short-term and long-term perspectives.
Next Steps
Trans-Rak can help car transport businesses obtain better value from containerised transport by increasing the occupancy of each shipping container and improving the safety and security of each vehicle. To find out more about containerised car transport, please download a copy of our Containerised Car Transport Guide by clicking here.
Image Source: Canva