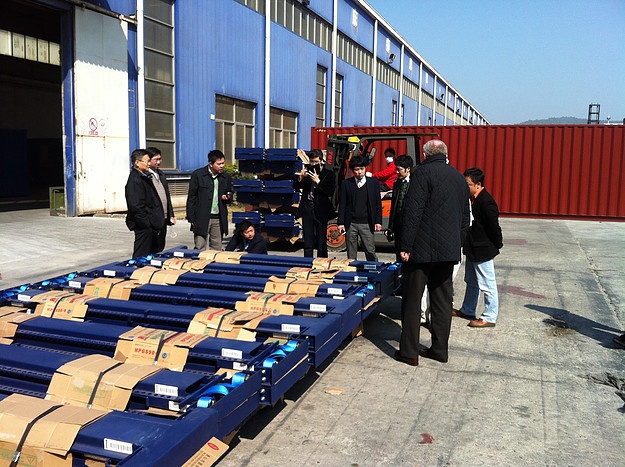 At Trans-Rak International, we offer the best automotive racking systems for putting cars in containers. There are other automotive container solutions available and it is important that you do your homework if you are looking to reduce your shipping costs. Always compare systems and choose the one that is best for your needs.
Why Use Automotive Racking?
The idea of an automotive racking system is so that a range of products, including finished vehicles or bodies, can be loaded into and out of shipping containers easily and efficiently. Using containers to transport vehicles is faster and more secure than other shipping methods. However, on large scales, the cost can be prohibitive. By securely loading 4 vehicles inside a container rather than 2, the logistics costs are significantly reduced.
How To Choose The Best Automotive Racking System
There are various automotive racking systems on the market, apart from our own solutions. Not all of them use the latest technology, design, and materials. None offer optimum value for money. You are going to be investing a fair amount of money in shipping your products so you want to know that the automotive racking you choose is going to be simple to use, logistically feasible, cost-effective, safe, reliable and speedy.
The best racking system will be able to load small to large vehicles using exactly the same equipment. It will be certified and extensively tested by external bodies for use on land, sea and rail. The system must collapse down so as to reduce any repositioning costs and must not rely on heavy machinery or hydraulics so that it can be operated at any loading/unloading depot at a moments notice.
Designing the right product is important and nobody understands this as well as our team. It is for this reason that our customers come back to the R-Rak time and time again.
Automotive Racking Systems & Reviews
It's always a good idea to have a look at reviews and to compare the different automatic racking systems and automotive containers out there. Everyone is going to give you a fabulous sales pitch and blurb but - ask the customers! Get advice and referrals and chat to the staff too. You will be able to tell immediately if they are knowledgeable, know what they are talking about, and if the company is a good one to use.
You can have a look at companies like Vucaframe and Transmech, but the truth is none of them use the same technology as our R-Rak solution. The R-Rak uses cutting-edge innovation to create a genuinely reusable racking solution. Our steel modular racks can be used over and over, unlike wood or string which is used once and then sadly thrown out.
It doesn't matter how wide the vehicle is, our racking systems are built in such a way that they can handle different size vehicles without any damage. Safety is key. Reliability is key. And sustainability is key too.
Coming To A Decision
Let's go back go to the start of this article again. Yes, there are many automotive racking systems out there and you should most definitely do your research and your homework. However, we are confident you will find our R-Rak offers the BEST container racking systems available on the market.
If you are unsure of the right choice, talk to people. Seek out reviews and compare experience with other logistics professionals. Or contact the manufacturer directly and get all the information you need. Remember, you have one job - to get vehicles from Point A to Point B. Choose the product that is going to do it right.
Our FREE Guide To Container Shipping
To speak with one of our team, please call +44 1926 40 82 82, or send an email to mail@trans-rak.com. You can request a quick quote online by clicking here, and one of our advisers will be in touch ASAP. For more information about container transport, please download a copy of our complimentary Ebook: The Containerised Car Transport Guide.