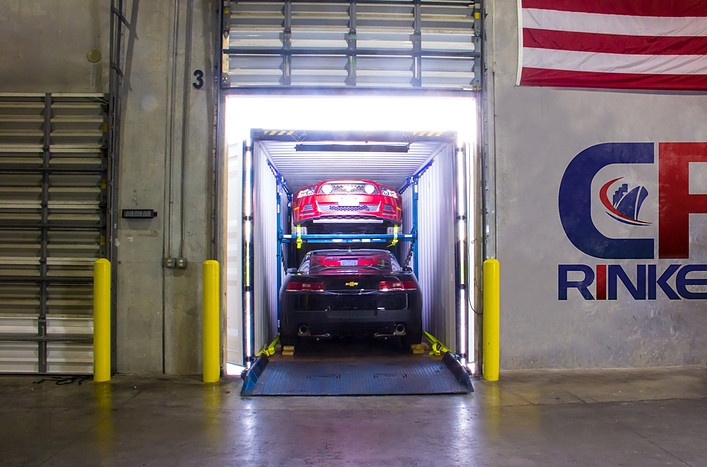 Since US based automotive logistics specialist CFR Rinkens - www.cfrrinkens.com - first switched from wooden racking to fully certified, steel engineered and sustainable R-Raks to move cars in containers, its business has effectively doubled and plans are underway to expand its export operations on the East Coast.
Thanks to the versatile, reusable racking system from Trans-Rak, the company has been able to increase loading of vehicles into containers by 33%. The R-Raks have also substantially reduced loading times, virtually eliminated damage and have driven down overall freight costs, says Christoph Seitz, Managing Member at CFR Rinkens.
As a result, CFR has secured a number of prestigious contracts; the company formed a Joint Venture with global logistics provider APL Logistics in May this year to transport used cars in containers (primarily in 53ft rail containers), in the US, Canada and Mexico and expects to move a total of over 40,000 cars domestically by the end of 2016.
It has also renewed a contract with Tesla Motors, confirming CFR as the manufacturer's premier shipper of thousands of its export models until the end of 2017. Other customers include The Pasha Group, for whom the company has shipped 1200 brand new cars for Chrysler and Honda, via containers from California to Hawaii.
Paul Donaldson, MD Trans-Rak International says: "Moving away from wooden racks clearly served as a powerful boost to CFR Rinkens' business, enabling them to optimise loads, protect valuable classic cars as well as luxury marques and deliver them in perfect condition to discerning customers within the US and on a global basis.
"By comparison with R-Raks, wooden racks are expensive in the long run and have a much greater negative impact on the environment. They can only be used once and must then be dismantled and disposed of. In contrast, our steel racking can be reused multiple times over a number of years and has less impact on the environment, even taking into consideration manufacturing processes. This makes R-Raks the most sustainable and cost-effective solution for transporting cars in containers."