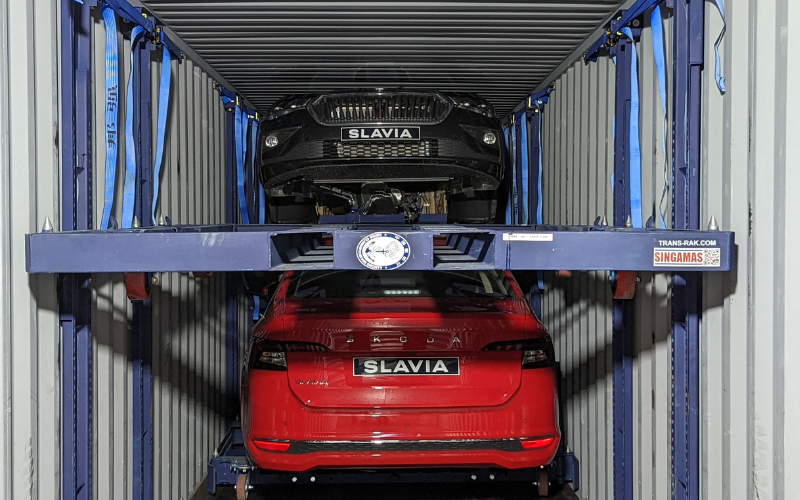 Optimising efficiency and space in the shipping process is crucial for international automotive logistics companies to control costs. The new P-RAK palletised cargo racking system from Trans Rak offers a solution that allows a second or even a third floor to be added to a standard shipping container, effectively increasing the total floor area.
This makes it ideal for shipping cargo that can't be stacked directly on top of each other while optimising the use of space within every container. Let's look at some of the benefits of the P-RAK system.
Palletised Cargo Support System
The P-RAK system is specially designed for shipping large volumes of palletised cargo that can't be stacked on top of each other – e.g. car accessories, disconnected electric batteries. This is because the P-RAK offers a floor-to-ceiling support structure, offering ample support for cargo without the risk of crushing or damage. The P-RAK system is also highly stable, minimising the risk of shifting or instability during transport.
Load Multiple Pallets/Boxes Onto A Single P-RAK Platform
The P-RAK system allows you to load multiple pallets or boxes onto a single platform because of the floor-to-ceiling support structure. This offers a more efficient use of space within each container and reduces the risk of damage.
Fast Loading For Better Turnaround Times
The P-RAK system offers fast loading times, as the P-RAK can be loaded outside the container and cargo secured before being rolled inside the container and lifted to the desired position. This reduces the overall time taken to load each container, which can lead to better turnaround times for logistics companies.
Easy Mobility
The P-RAK system is equipped with wheels, which makes it easy to move around. This is helpful when loading and unloading containers and makes moving goods around the factory easier after unloading.
Combine P-RAKs For The Ultimate Level Of Efficiency
For the ultimate level of efficiency, multiple P-RAKs can be combined to create a second or even third mezzanine floor in the container. More container space can be utilised, which is ideal for shipping large volumes of cargo and reducing shipping costs. The P-RAK can also be combined with another racking system (e.g. EL-RAK, R-RAK) for multi-category transport within the same shipping container.
Utilises Existing R-RAK Technology
Trans Rak is one of the world's leading racking system manufacturers, and our R-RAK system is designed to maximise the efficiency of containerised vehicle shipping. The P-RAK was built on the existing proven R-RAK platform, which means it benefits from years of research and development for greater stability and reliability.
Optimise Shipping Efficiency And Reduce Costs With P-RAK
The P-RAK system offers many benefits to optimise shipping efficiency and reduce costs. With its ability to create additional floor space, the P-RAK is ideal for shipping large volumes of cargo. The P-RAK is also easy to load and unload, leading to improved turnaround times.
Trans Rak's years of experience designing racking systems mean the P-RAK benefits from the latest technology and research. This makes the P-RAK an ideal solution if you want to get the most out of your shipping containers. Please get in touch with one of our technical sales team to find out more.